You've likely seen modern windows with a hand crank before. But do you know the actual name for them? In "the biz," they're called casement windows.

With a simple crank, vinyl casement windows open to the outside while being permanently fixed on one side. They are extremely user-friendly and when paired with the right hardware, can create a sleek, modern look in any room. If you are new to this type of window, this article will walk you through the different parts, benefits, and some considerations before purchasing.
Casement Window Parts
Casement windows can be broken down into several parts.
The window frame is the permanent outer edge of the window. Sometimes, it is surrounded by casing, which is decorative molding between the frame and the wall. The sash moves and holds the glass pane. When the corner joints are welded together, the frame and sash provide structural support and improve the longevity of the window. That's because the welding creates the tightest seal possible again air leakage and moisture.
Along the sash you will find hinges, which allow the window to open to the right or the left.
As mentioned above, these windows include a crank, which you use for opening and closing.
Because they open outwards, they can be exposed to wind. Stays are horizontal hardware bars that keep the window in place when it is opened.
Some windows also include latches or handles, which add an extra layer of security when the window is closed.
Styling Up Your Casement Windows
Casements can be further stylized with a number of additional options.
If you purchase vinyl casement windows, you will have a host of frame colours to choose from. This allows you to match your windows with your wall paint or flooring. (Also, vinyl retains its vibrancy and never has to be repainted!)
You may also wish to add grilles to your windows. These are lines that run horizontally and vertically, over or through your window panes. Grilles create an appearance of multiple small squares of glass fused together.
Tinted or textured glass add a modern look and feel to your windows while also providing some level of privacy from people looking in from the outside.
Here Are A Few Benefits Of Casement Windows
Casement windows offer a wide range of benefits. Consider the following when you are making your decision:
Natural Ventilation
Because they open outward, casement windows can direct breezes into your home, and even provide cross-ventilation to cool your house down.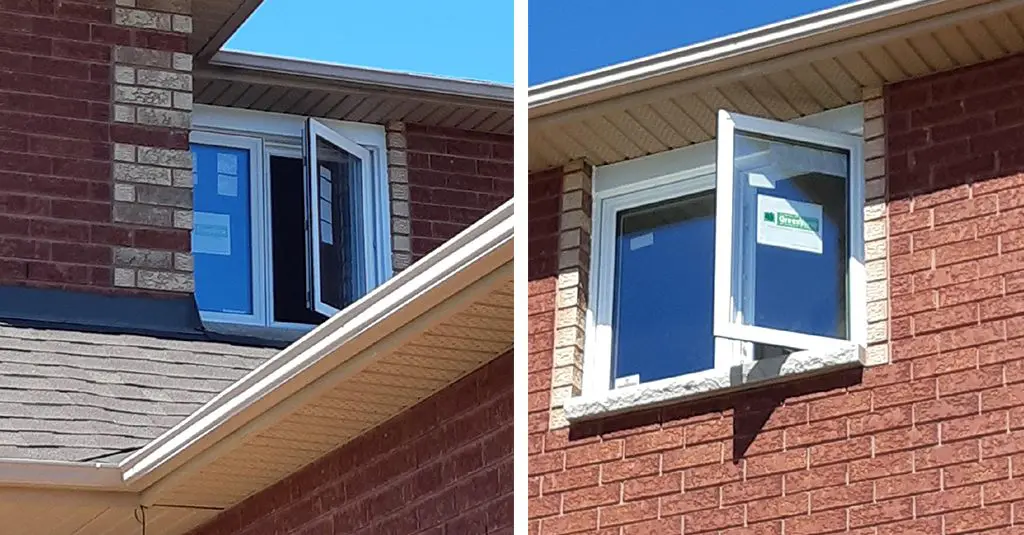 Energy-Efficient
Because they seal and lock so tightly into the window frame, this type of window protects your home against heat loss and air infiltration. When you are shopping around, look for ENERGY STAR®-rated windows with a good U-factor. Want to make your windows even more efficient? Consider double- or triple-glazing or low-e glass.
Easy To Clean
Vinyl casement windows are famously easy to care for! Cleaning the inside only requires removing the screen. To clean the exterior of the window, you only need to open it slightly and reach around to the outside. There is no need for strong cleaning supplies: simply use mild soap and water. The window tracks may occasionally collect dirt and debris, but those can easily be cleaned using a small brush or vacuum.
Easy To Operate
In addition to their ease of maintenance, casement windows are also easy to use. They're a good option for hard-to-reach areas because you can open the window with a single hand.
Extra Security
Casement windows are one of the most secure windows you can own. Hardware like handles and latches help reinforce the tight seal your window already provides, giving you and your home an extra layer of security.
Trust In Professional Installation
As you now understand, there are many reasons to choose this type of window for your home.
To ensure you experience all that these windows have to offer, consult a professional window installer. They can guide you on the perfect type of vinyl window for your house and ensure they are measured and installed properly.
So who should you turn to? Consider Weaver Exterior Remodeling. With more than 30 years in business, we are one of the three top window installers in Barrie. We provide honest, transparent pricing and our goal always is to stay on time and within your budget.
Get started today by setting up a free quote with us, or browse our online gallery of past work.
For more reading: