When we think of home design trends, we're much more likely to think of kitchen backsplash ideas than to think of exterior elements of the home. However, elements of your home exterior design, such as what you choose as your exterior cladding material and your window frame colour, go in and out of style too. There is a fresh batch of ideas for your exterior design choices in 2023, and we think this year's trends are shaping up to look great so far. Learn a bit about the exterior home design trends for 2023 and get inspired to make new changes below.
Overhangs And Alcoves
The distinction between exterior and interior space is blurred from a designer's perspective. More and more, people want to be able to easily enjoy their outdoor space and entertain in it, which means reducing the distinction between the kitchen and the back deck, for example. You can see this new emphasis in many of the exterior house trends over the last few years, and 2023 is no exception. This year, we foresee that outdoor overhangs and alcoves will continue to grow in popularity.
Overhangs and alcoves are meant to better connect interior and exterior living spaces. Overhangs give you a sheltered spot and, when placed near a back or front door, extend some of the inside to the outside. Alcoves act as transitional spaces where you can place both indoor and outdoor elements.
Black Window Frames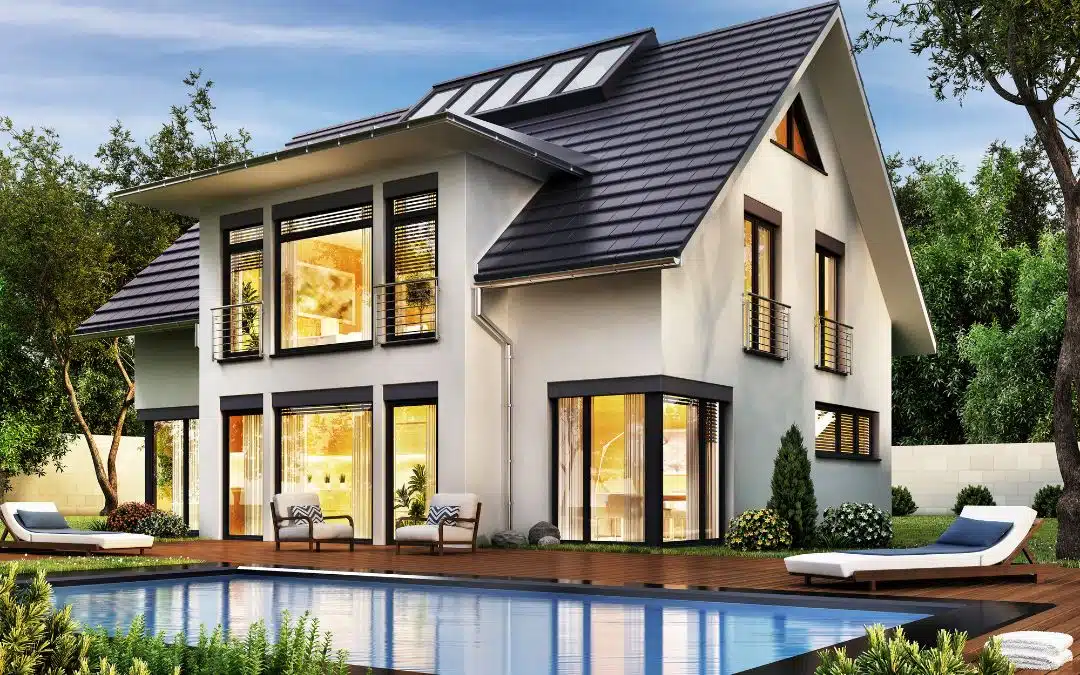 A simple but stunning trend, black window frames are not going anywhere. Adding a stark black window frame to your old windows or installing new windows with these dramatic frames first came about when the modern farmhouse style started to rise in popularity for home exteriors. Even though the craze for the farmhouse style is dying down a bit, especially inside, black window frames continue to be popular.
Not so sure that you want to take the plunge just yet into black window frames? You could consider choosing another dark shade instead. A dark brown can feel earthy and interesting without the intensely high contrast of black. Dark navy and dark green are other good options to consider.
Energy-Efficient Siding
Every few years, homeowners seem to discover that another part of their home can be made more energy efficient. This trend is driven by manufacturers who develop new energy-efficient options for homes, from water heaters to doors. This year, the newest energy-efficient siding options are likely to be more popular than ever. We offer new energy-efficient siding in aluminum and vinyl to fit different budgets. The materials prevent the transfer of heat, keeping your home warmer in winter while also offering a buffer from external heat in the summer. To prevent the moisture issues that could come from such heat retention, these materials have tiny venting holes which allow for proper air circulation.
Industrial Design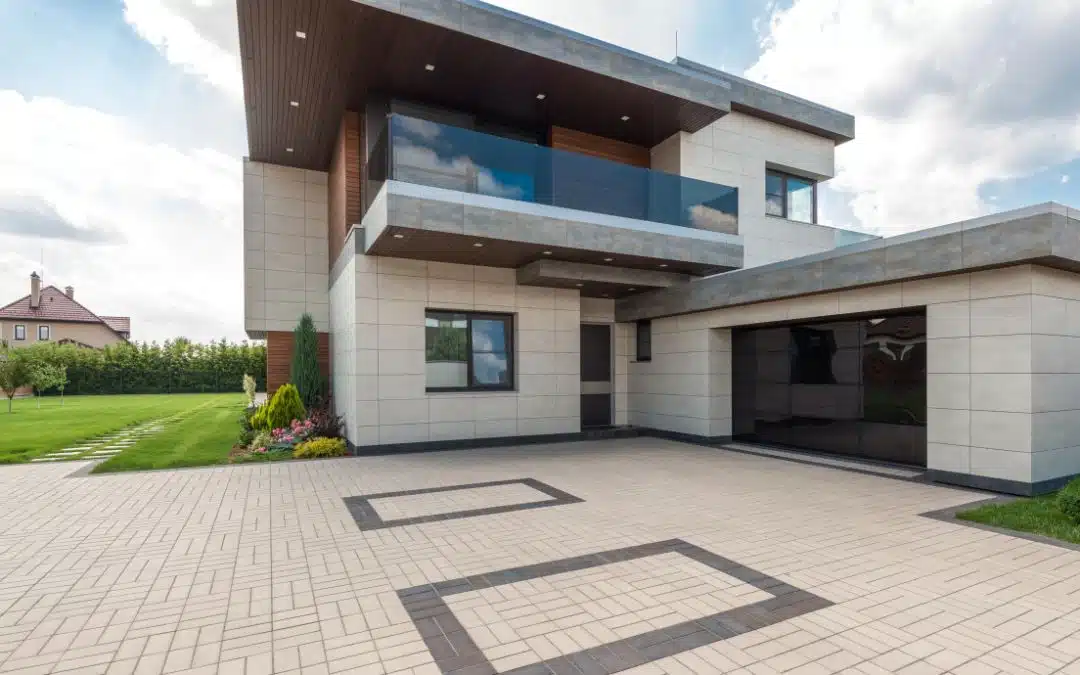 We told you that the farmhouse style is one of the home exterior trends on the way out, so what is taking its place? Modern exterior design styles that are minimalist and combine multiple materials are still dominating the exterior home design landscape. However, one up-and-coming style to take note of is what's called industrial design.
Of course, industrial design, with its mixture of materials, exposed steel and dark colours have been popular in urban spaces for some time. However, the style is starting to be found in the suburbs more and more. We anticipate that the new residential exterior remodeling projects we will be working on this year will have a higher percentage of industrial styles than in years past.
If you want to get in on this design style, what can you do? Take a look through Architecture Art Designs or other sources for examples of home exteriors in this style. You'll find a mixture of brick and metals, square designs, flat roofs, top-heavy facades, dark palettes, and other stylistic echoes of industrial spaces.
Natural Stone Accents
Not into the industrial look? It's not for everyone. There are other materials that you might want to look into instead. One trendy option for home exteriors in 2023 is to take your siding material and add in stone accents. Natural stone is expensive, which is why the bulk of these exteriors are made of siding, and the natural stone is added in only as an accent that grounds the space and adds a unique texture to complement the smooth siding.
Wraparound Porches
Wraparound porches are yet another way to connect your indoor and outdoor spaces and add more utility and functionality to your home in general. There are two options:  you can extend your current porch and make it a wrap-around, or, for those without a porch, you can build up the entire thing. You'll just need to make sure that you have the clearance you need for the project on at least one side of your house.
What if you don't? If you can't quite fit a porch, you can always build a walkway along the side of your house that also connects your front porch with your back patio or back deck.
Metal Roofing
Most homes have asphalt roofing, but this material isn't your only option. Metal roofing has come a long way from the days of standing seams. These days, metal is a quiet roofing material that performs well and lasts significantly longer than any asphalt roof. It can also add quite a stylistic statement to your roof, as it is available in a huge range of bold colours. If you are getting a metal roof, you may also want to update your soffits and fascia to improve their look and ensure the metal roof is properly ventilated.
Colour Of The Year
Pantone's colour of the year for 2023 is Viva Magenta. Few homeowners want to put that intense shade on their siding, however. But colours of the year offered by other paint and colour companies might look better with your exterior decor. Better Homes & Gardens found some alternate exterior home design trends for 2023 that work nicely without the intensity, including:
Terra Rosa from Dunn-Edwards
Blank Canvas by Behr
Rustic Greige by Dutch Boy
Exterior Home Design Trends For 2023 — Book Your Update Today
Is it time for you to get in on the exterior home design trends for 2023? Our team can help with everything from new fascia for your roof to new siding and stone accents. Get a free quote today.